Yarn is a long continuous length of interlocked fibres, suitable for use in the production of textiles, sewing, crocheting, knitting, weaving, embroidery, and ropemaking. Thread is a type of yarn intended for
sewing by hand
or machine. Modern manufactured sewing threads may be finished with wax or other lubricants to withstand the stresses involved in sewing.
Embroidery threads are yarns specifically designed for hand or machine embroidery.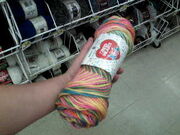 Ad blocker interference detected!
Wikia is a free-to-use site that makes money from advertising. We have a modified experience for viewers using ad blockers

Wikia is not accessible if you've made further modifications. Remove the custom ad blocker rule(s) and the page will load as expected.