Wade Hitt was a 14 year old boy from Walton, NY who was in a serious car accident.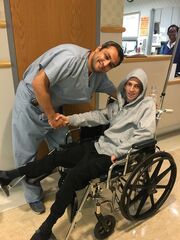 The Story
Edit
Wade was riding in a pick up truck along with his older brother Blake Hitt, and another boy named Dylan. Blake, who was the driver, swirved for whatever reason and accidentally rolled over in a nearby ditch. The driver and front seat passenger were wearing their seat belts and had only minor injuries and were released from the hospital within a few days.
Wade, however, was not wearing his seatbelt and was thrown out of the truck and was transported to Albany Medical Center. There he was in very critical condition, and he spent several weeks in the hospital and reabilitation center recovering from his injuries.
Eventually, Wade was well enough to return home. He was eager to sleep in his own bed and take a hot shower, something which he hadn't done in two months. When he arrived home, many family members, friends, and fans gathered around to welcome him home.
Aftermath
Edit
When the boy's mother, Anna Hitt, took him back to the hospital to check on the many blood clots that were supposed to take a few years to disappear completely, doctors discovered they were completely gone after only a few weeks much to their amazement.
The Wade Hitt Story has stunned many people all over Delaware County, including those from Walton, Sidney, Delhi, and many other local towns. The boy was lucky and survived his injuries, and recovered really fast compared to what doctors thought it would take.
Delaware Academy Central school district at Delhi, invited this brave survivor and his family to their homecoming festivities in fall 2016. He seemed to have a very good time there.
He is the first person in my records to survive a vehicle ejection.
Unfortunately, I did not hear about him until at least a month after it happened.
As Wade was only 14 years old, I knew right away that there was no way he could have been the driver. That meant there had to be at least one other person in the truck with him.
The moral of this story: WEAR YOUR SEATBELT!!!
Ad blocker interference detected!
Wikia is a free-to-use site that makes money from advertising. We have a modified experience for viewers using ad blockers

Wikia is not accessible if you've made further modifications. Remove the custom ad blocker rule(s) and the page will load as expected.