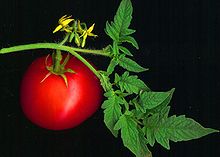 The tomato belongs to the nightshade family. The plants typically grow to 1–3 meters (3–10 ft) in height and have a weak stem that often sprawls over the ground and vines over
other plants
. It is a perennial in its native habitat, although often grown outdoors in temperate climates as an annual.
Tomato colors are kind of tricky; red isn't the only color in the pallet.  If you've spent any time with seed catalogs or read any books on tomatoes, you'll see references to yellow, pink, orange, bicolor, green, purple, chocolate, white, blue, and black. Still, the colors aren't necessarily obvious, nor do the same varieties of tomatoes grown in different climates have the same color.  What's a home gardener to do?
The fruit colors are as follows: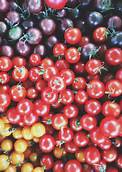 The image gallery for tomatoes may be viewed
here
:
Ad blocker interference detected!
Wikia is a free-to-use site that makes money from advertising. We have a modified experience for viewers using ad blockers

Wikia is not accessible if you've made further modifications. Remove the custom ad blocker rule(s) and the page will load as expected.