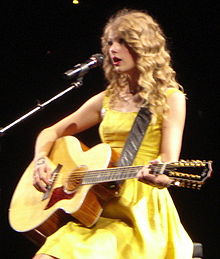 Taylor Alison Swift (born December 13, 1989) is an American country pop singer-songwriter, musician and actress.
Early life
Edit
Taylor Swift was born on December 13, 1989, and raised in Pennsyvania. She is the daughter of Andrea Gardner, who previously worked in finance, and Scott Kingsley Swift, a stockbroker. Her maternal grandmother, Marjorie Finlay, was an opera singer. Swift has a younger brother, Austin.
When Swift was in fourth grade, she won a national poetry contest with a three-page poem, "Monster in My Closet". At the age of 10, a computer repairman showed her how to play three chords on a guitar, sparking her interest in learning the instrument. Afterwards, Swift wrote her first song, "Lucky You". When Swift was 12, she devoted an entire summer to writing a 350-page novel, which remains unpublished. She began writing songs regularly and used it as an outlet to help her with her pain from not fitting in at school. Swift was a victim of bullies, and spent her time writing songs to express her emotions. She also started performing at local karaoke contests, festivals, and fairs.
Ad blocker interference detected!
Wikia is a free-to-use site that makes money from advertising. We have a modified experience for viewers using ad blockers

Wikia is not accessible if you've made further modifications. Remove the custom ad blocker rule(s) and the page will load as expected.