A
sock
is an item of clothing worn on the feet. The foot is among the heaviest producers of sweat in the body, as it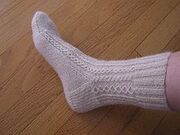 is able to produce over 1 US pint (0.47 l) of perspiration per day.
Socks help to
absorb
this sweat and draw it to areas where air can evaporate the perspiration. In cold environments, socks decrease the risk of frostbite. Its name is derived from the loose-fitting slipper, called a soccus in Latin, worn by Roman comic actors.
Ad blocker interference detected!
Wikia is a free-to-use site that makes money from advertising. We have a modified experience for viewers using ad blockers

Wikia is not accessible if you've made further modifications. Remove the custom ad blocker rule(s) and the page will load as expected.