A
seashell
or
sea shell
, also known simply as a
shell
, is a hard, protective outer layer created by an animal that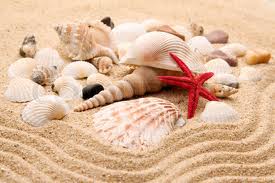 lives in the sea. The shell is part of the body of the animal. Empty seashells are often found washed up on beaches by beachcombers. The shells are empty because the animal has died and the soft parts have been eaten by another animal or have rotted out.
However, seashells are not the only kind of shells; in various habitats it is possible to find shells from freshwater animals such as freshwater mussels and freshwater snails, and it is also possible to find the shells of land snails.
Indentification
Edit
Seashells are usually identified by consulting general or regional shell-collecting field guides, and specific scientific books on different taxa of shell-bearing mollusks (monographs) or "iconographies" (limited text - mainly photographs or other illustrations). (For a few titles on this subject in the US, see the list of books at the foot of this article.) Identifications to the species level are generally achieved by examining illustrations and written descriptions, rather than by the use of Identification keys, as is often the case in identifying plants and other phyla of invertebrates. The construction of functional keys for the identification of the shells of marine mollusks to the species level can be very difficult, because of the great variability within many species and families. The identification of certain individual species is often very difficult, even for a specialist in that particular family. Some species cannot be differentiated on the basis of shell character alone.
Ad blocker interference detected!
Wikia is a free-to-use site that makes money from advertising. We have a modified experience for viewers using ad blockers

Wikia is not accessible if you've made further modifications. Remove the custom ad blocker rule(s) and the page will load as expected.