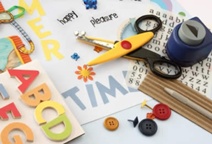 Scrapboking is a fun activity. You can use photos, magazines, and all sorts of images to fill it.What will you need to make a basic scrapbook?
What it is
Edit
Scrapbooking is a method of preserving personal and family history in the form of a scrapbook. Typical memorabilia include photographs, printed media, and artwork. Scrapbook albums are often decorated and frequently contain extensive journaling. Scrapbooking is a widely and increasingly practiced pastime in most developed countries.
Marielen Christensen of Spanish Fork, Utah is often credited with turning scrapbooking from a hobby to an actual industry-including stores that officially sell and manufacturers of scrapbooking supplies, which didn't exist before. She began designing creative pages for her family's photo memories, inserting the completed pages into sheet protectors collected in 3-ring binders. By 1980, she had assembled over fifty volumes and was invited to display them at the World Conference on Records in Salt Lake City. Marielen and her husband AJ authored and published a how-to book, Keeping Memories Alive, and opened a scrapbook store in 1981 that remains open today.
In addition to preserving memories, the hobby is popular for the strong social network that scrapbooking can provide. Hobbyists, known as "scrappers" or "scrapbookers," get together and scrapbook at each other's homes, local scrapbook stores, scrapbooking conventions, retreat centers, and even on cruises. The attendees share tips and ideas as well as enjoying a social outlet. The term "crop," a reference to cropping or trimming printed photographs, was coined to describe these events.
Materials
Edit
Card stocks

Solid-colored plain or textured and acid-free papers will be best. Cardstocks can be used as background papers and as photo mats.

Patterned Papers

Acid-free papers with designs or prints will work best. Papers can be used as photo mats, background papers, embellishments. etc.

Scissors -
There are a lot of different types that have designs in them to make your pictures or mattes
have shapes, but also have a normal pair as well.
Adhesives

Acid-free glue. Liquid glue, glue-dots and glue-tapes will probably work best.

Journaling Pen

Pens used on your scrapbook layouts should be pigment ink, acid-free, waterproof, fade proof and non-bleeding.

Scrapbook Album
Embellishments

Embellishments are the best way to customize and personalize your scrapbook. You can use anything from buttons, ribbons, eyelets, stamps to origami, rub-ons, and stickers.