Rose quartz
is a type of quartz which exhibits a pale pink to rose red hue. The color is usually considered as due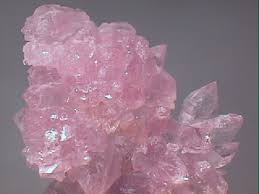 to trace amounts of titanium, iron, or manganese, in the massive material. Some rose
quartz
contains microscopic rutile
needles
which produces an asterism in transmitted light. Recent X-ray diffraction studies suggest that the color is due to thin microscopic fibers of possibly dumortierite within the massive quartz.
In crystal form (rarely found) it is called pink quartz and its color is thought to be caused by trace amounts of phosphate or aluminium. The color in crystals is apparently photosensitive and subject to fading. The first crystals were found in a pegmatite found near Rumford, Maine, USA, but most crystals on the market come from Minas Gerais, Brazil.
Rose quartz is not popular as a gem – it is generally too clouded by impurities to be suitable for that purpose. Rose quartz is more often carved into figures such as people or hearts. Hearts are commonly found because rose quartz is pink and an affordable mineral.
The color of the fibrous mineral as well as the color of rose quartz is stable up to temperatures above 500 deg C and is also stable in ultraviolet light. Rose quartz is dichroic, reflecting a preferential orientation of the included fibers. It is usually found in the quartz cores of pegmatites and is believed to form at high temperatures, but it has also been found in hydrothermal veins.
Ad blocker interference detected!
Wikia is a free-to-use site that makes money from advertising. We have a modified experience for viewers using ad blockers

Wikia is not accessible if you've made further modifications. Remove the custom ad blocker rule(s) and the page will load as expected.