The Rio Grande Valley (RGV) or the Lower Rio Grande Valley, is an area located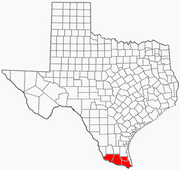 in the southernmost tip of South
Texas
. It lies along the northern bank of the
Rio Grande
, which separates
Mexico
from the United States.
The Rio Grande Valley is not a valley, but a floodplain containing many oxbow lakes or resacas formed from pinched-off meanders in earlier courses of the Rio Grande. Early 20th-century land developers, attempting to capitalize on unclaimed land, utilized the name "Magic Valley" to attract settlers and appeal to investors. The Rio Grande Valley is also called El Valle, the Spanish translation of "the valley", by those who live there. The residents of the Rio Grande Valley occasionally refer to the area as "El Magico Valle del Rio Grande" ("The Magical Valley of the Rio Grande"), and also simply by the initials R.G.V.
Counties in the region
Edit
The region is made up of four counties: Starr County, Hidalgo County, Willacy County, and Cameron County. As of January 1, 2012, the U.S. Census Bureau estimated the population of the Rio Grande Valley at 1,305,782. According to the U.S. Census Bureau in 2008, 86 percent of Cameron County, 90 percent of Hidalgo County, 97 percent of Starr County, and 86 percent of Willacy County are Hispanic.
The largest city is Brownsville (Cameron County), followed by McAllen (Hidalgo County). Other major cities include Harlingen, Edinburg, Mission, Rio Grande City and Pharr.
Ad blocker interference detected!
Wikia is a free-to-use site that makes money from advertising. We have a modified experience for viewers using ad blockers

Wikia is not accessible if you've made further modifications. Remove the custom ad blocker rule(s) and the page will load as expected.