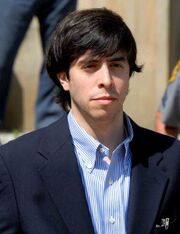 In July 2005, after a joyous family wedding, convicted drunk driver Martin Heidgen was going the wrong way on the Meadowbrook Parkway and killed the flower girl and limo driver Stanley Rabinowitz. Now, Heidgen's lawyer is trying to reverse that murder conviction.
In arguments that lasted for more than an hour, defense lawyers tried to convince the judges that Heidgen was convicted of the wrong crime – murder – and he should have been tried only on the lesser charge of manslaughter.
"He left a party, got lost, ended up on the Meadowbrook Parkway in the wrong direction," defense lawyer Jillian Harrington said. "It was a horrific, tragic accident that was a result of that, but that's not what the New York State Court of Appeals says is depraved indifference murder."
The defense also argued that police mishandled blood evidence indicating how drunk Heidgen actually was. The case was the first in Nassau County in which a drunk driver was convicted of murder.
Heidgen's family is hoping the murder conviction will be overturned.
"He's coping with the situation," father Kurt Heidgen said. "We love him very much, and hopefully the court will make the right decision."
Martin Heidgen is currently serving 18 years to life in prison. An appellate ruling could come in the case within weeks or months. The Flynn family attended every day of the five-week trial, along with dozens of supporters.