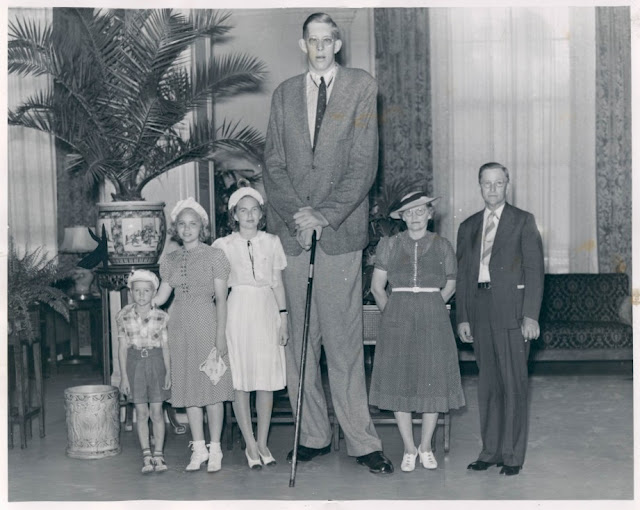 This is a list for any person who reaches 8ft or more.
Nationality
Metric
Imperial
Name
Note
Lifespan
United States
2.72 m
8 ft 11.1 in
Robert Wadlow
Tallest person in recorded history confirmed by Guinness World Records.[1]
1918–1940
United States
2.67 m
8 ft 9 in
John Rogan
Second tallest male in recorded history. Weighed only175 lb (79 kg). Unable to stand due to ankylosis
c. 1868–1905
United States
2.63 m
8 ft 7.5 in
John F. Carroll
2.44 m (8 ft 0 in) standing height, 2.64 m (8 ft 7¾ in) assuming normal spinal curvature
1932–1969
Finland
2.51 m
8 ft 3 in
Väinö Myllyrinne
Recognized as the tallest living person from 1940 to his death in 1963. Said to have been 2.51 m in his thirties.
1909–1963
Canada
2.51 m
8 ft 3 in
Edouard Beaupré
Tallest strongman as well as tallest wrestler in history.
1881-1904
Turkey
2.51 m
8 ft 3 in
Sultan Kösen
The tallest living person since September 17, 2009, as determined by Guinness World Records.
1982–
United States
2.49 m
8 ft 2 in
Bernard Coyne
Coyne's World War I draft registration card, dated 29 August his height as 8 feet, although he had reached a height of 8 feet 2 inches (2.49 m) by the time of his death. Possibly reached up to 8 ft 4 in (2.54 m)
1897–1921
United States
2.49 m
8 ft 2 in
Don Koehler
Tallest in world for most of 1970s. Had twin sister who was 1.75 m (5 ft 9) tall
1925–1981
India
2.49 m
8 ft 2 in
Vikas Uppal
Was not officially measured by Guinness.
1986–2007
Ireland
2.46 m
8 ft 1 in
Patrick Cotter O'Brien
Tallest person recorded at the time and the first in medical history to stand at a verified height of eight feet (2.44 m). Remains examined in 1972 and height verified.
1760–1806
Morocco
2.46 m
8 ft 1 in
Brahim Takioullah
Possesses the world's largest feet at 1 ft 3 in (38 cm).
1982-
Iran
2.46 m
8 ft 1 in
Morteza Mehrzad
Tallest man in Iran.
1987-
Germany
2.46 m
8 ft 1 in
Julius Koch
Probably never the world's tallest person due to his life coinciding with that of John Rogan. Skeleton preserved in the Museum of Natural History in Mons, Belgium.
1872–1902
Mozambique
2.46 m
8 ft 1 in
Gabriel Estêvão Monjane
Guinness World Records listed him as tallest man from 1988 to 1990.
1944–1990
Libya
2.45 m
8 ft ½ in
Suleiman Ali Nashnush
Libyan who may have been the tallest basketball player.
1943–1991
France
2.45 m
8 ft ½ in
Jean-Joseph Brice
Le Géant des Vosges Ramonchamp - France -- Height controversy
1835–?
Germany
2.44 m
8 ft 0 in
Anton de Franckenpoint

(Langer Anton)

Lived during Thirty Years' War; skeleton later measured at 8 ft 0 in (244 cm).
Unknown
Ad blocker interference detected!
Wikia is a free-to-use site that makes money from advertising. We have a modified experience for viewers using ad blockers

Wikia is not accessible if you've made further modifications. Remove the custom ad blocker rule(s) and the page will load as expected.