Most scissors are best-suited for use with the right hand, but
left-handed
scissors are designed for use with the left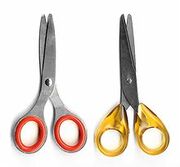 hand. Because scissors have overlapping blades, they are not symmetric. This asymmetry is true regardless of the orientation and shape of the handles: the blade that is on top always forms the same diagonal regardless of orientation. Human hands are also asymmetric, and when closing, the thumb and fingers do not close vertically, but have a lateral component to the motion. Specifically, the thumb pushes out from the palm and the fingers pull inwards. For right-handed scissors held in the right hand, the thumb blade is closer to the user's body, so that the natural tendency of the right hand is to force the cutting blades together. Conversely, if right-handed scissors are held in the left hand, the natural tendency of the left hand would be to force the cutting blades laterally apart. Furthermore, with right-handed scissors held by the right-hand, the shearing edge is visible, but when used with the left hand, the cutting edge of the scissors is behind the top blade, and one cannot see what is being cut.
Some scissors are marketed as ambidextrous. These have symmetric handles so there is no distinction between the thumb and finger handles, and have very strong pivots so that the blades simply rotate and do not have any lateral give. However, most "ambidextrous" scissors are in fact still right-handed in that the upper blade is on the right, and hence is on the outside when held in the right hand. Even if they successfully cut, the blade orientation will block the view of the cutting line for a left-handed person. True ambidextrous scissors are possible if the blades are double-edged and one handle is swung all the way around (to almost 360 degrees) so that the back of the blades become the new cutting edges. Patents (U.S. Patent 3,978,584) have been awarded for true ambidextrous scissors.
Ad blocker interference detected!
Wikia is a free-to-use site that makes money from advertising. We have a modified experience for viewers using ad blockers

Wikia is not accessible if you've made further modifications. Remove the custom ad blocker rule(s) and the page will load as expected.