The
jaw
is any opposable articulated structure at the entrance of the mouth, typically used for grasping and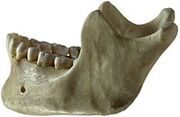 manipulating food. The term
jaws
is also broadly applied to the whole of the structures constituting the vault of the mouth and serving to open and close it and is part of the body plan of most animals.
Ad blocker interference detected!
Wikia is a free-to-use site that makes money from advertising. We have a modified experience for viewers using ad blockers

Wikia is not accessible if you've made further modifications. Remove the custom ad blocker rule(s) and the page will load as expected.