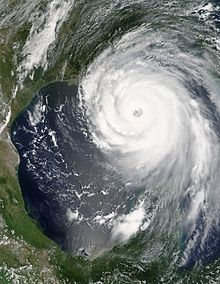 Hurricane Katrina
was the deadliest and most destructive Atlantic hurricane of the 2005 Atlantic hurricane season. It is the costliest natural disaster, as well as one of the five deadliest hurricanes, in the history of the United States. Among recorded Atlantic hurricanes, it was the sixth strongest overall. At least 1,836 people died in the actual hurricane and in the subsequent floods, making it the deadliest U.S. hurricane since the 1928 Okeechobee hurricane; total property damage was estimated at
$81 billion
(2005 USD), nearly triple the damage wrought by Hurricane Andrew in 1992.
Formation
Edit
Hurricane Katrina formed over the Bahamas on August 23, 2005 and crossed southern Florida as a moderate Category 1 hurricane, causing some deaths and flooding there before strengthening rapidly in the Gulf of Mexico. The hurricane strengthened to a Category 5 hurricane over the warm Gulf water, but weakened before making its second landfall as a Category 3 hurricane on the morning of Monday, August 29 in southeast Louisiana.
Ad blocker interference detected!
Wikia is a free-to-use site that makes money from advertising. We have a modified experience for viewers using ad blockers

Wikia is not accessible if you've made further modifications. Remove the custom ad blocker rule(s) and the page will load as expected.