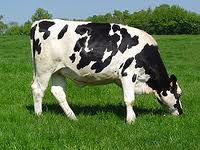 Holstein Cows are the most popular breed of dairy cows. They are most quickly recognized by their distinctive color markings and outstanding milk production.
Holsteins are large, stylish animals with color patterns of black and white or red and white. A healthy Holstein calf weighs 90 pounds or more at birth. A mature Holstein cow weighs about 1,500 pounds and stands 58 inches tall at the shoulder. Holstein heifers can be bred at 13 months of age, when they weigh about 800 pounds. It is desirable to have Holstein females calve for the first time between 23 and 26 months of age. Holstein gestation is approximately nine months. While some cows may live considerably longer, the average productive life of a Holstein is approximately four years.
Ad blocker interference detected!
Wikia is a free-to-use site that makes money from advertising. We have a modified experience for viewers using ad blockers

Wikia is not accessible if you've made further modifications. Remove the custom ad blocker rule(s) and the page will load as expected.