The
Gulf of Aden
  is a gulf located in the
Arabian Sea
between Yemen, on the south coast of the Arabian Peninsula,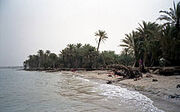 and Somalia in the Horn of Africa. In the northwest, it connects with the Red Sea through the Bab-el-Mandeb strait, which is about 20 miles wide. It shares its name with the port city of Aden in Yemen, which forms the northern shore of the gulf. Historically the Gulf of Aden was known as "The Gulf of Berbera", named after the ancient Somali port city of Berbera on the south side of the gulf.
However as the city of Aden grew during the colonial era, the name of "Gulf of Aden" was popularised.
Ad blocker interference detected!
Wikia is a free-to-use site that makes money from advertising. We have a modified experience for viewers using ad blockers

Wikia is not accessible if you've made further modifications. Remove the custom ad blocker rule(s) and the page will load as expected.