Grand Caverns, formerly known as
Weyer's Cave
, is located in the central Shenandoah Valley near the town of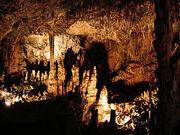 Grottoes, Virginia, USA. A limestone cavern, it claims the distinction of being America's oldest show cave, in operation since 1806.
This cavern has a unique history.
Discovery
Edit
The cavern system was discovered in 1804 by 18-year-old Bernard Weyer, a young trapper, looking for his missing trap. He named it Weyer's Cave, after himself, and, after exploring it for two years, opened it for the public, the first show cave of the United States.
War usage
Edit
During the Civil War and the Valley Campaign, the cave was visited by both Confederate and Union soldiers. During their visits, over 230 soldiers signed their names on the cave's walls. One noted signature is that of W.W. Miles, signed on September 26, 1864. Once, Confederate General Stonewall Jackson was apparently camped near Port Republic and allowed his soldiers to visit the caverns. Jackson himself decided not to go, saying, "I fear I shall be underground soon enough, and I have no desire to speed the process.
The cave is developed in Cambrian limestone/dolomite, and is known for its abundance of shield formations. It is also replete with stalactites, stalagmites, columns (where stalactites and stalagmites meet), draperies and other flowstone formations. The most stately room, "Cathedral Hall", is 280 feet long and over 70 feet (21 m) high. It is one of the largest rooms of any cavern in the Eastern United States. It is also the only known cavern with a triple shield formation.
Ad blocker interference detected!
Wikia is a free-to-use site that makes money from advertising. We have a modified experience for viewers using ad blockers

Wikia is not accessible if you've made further modifications. Remove the custom ad blocker rule(s) and the page will load as expected.