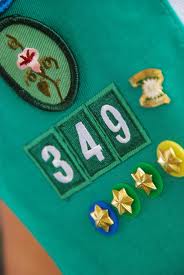 The
Girl Scouts of the United States of America
(
GSUSA
) is a youth organization for
girls
in the United States and
American girls living
abroad. It was founded by Juliette Gordon Low in 1912 and was organized after Low met Robert Baden-Powell, the founder of Scouting, in 1911.
In 1965, the age structure was rearranged to Brownies (ages 7 through 9, later 6 through 9), Juniors (ages 9 through 11), Cadettes (ages 11 through 14), and Seniors (ages 14 through 17). In 1984, the Daisy program for kindergarten girls or those aged five was introduced.
Level one: Daisy
Edit
Daisies are the youngest level of girl scouting. Their uniform either consists of a blue tunic or a blue vest. Daisy scouts must have earned all the petals in order to move to be a brownie.
Level two: Brownie
Edit
After the daisies, come the brownies. their uniform consists of either a brown sash or vest. To move up to the junior level, you must be a brownie for at least 2 years.
Level three:
Edit
Once you are done with the brownies, you become juniors. Their uniform
Ad blocker interference detected!
Wikia is a free-to-use site that makes money from advertising. We have a modified experience for viewers using ad blockers

Wikia is not accessible if you've made further modifications. Remove the custom ad blocker rule(s) and the page will load as expected.