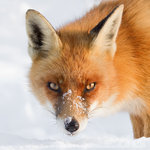 Fox
is a common name for many species of omnivorous
mammals
belonging to the
Canidae
family. Foxes are small to medium-sized canids (slightly smaller than a medium-sized domestic
dog
), characterized by possessing a long narrow
snout
, and a bushy
tail
(or
brush
).
Life Span
Edit
In the wild, foxes can live for up to 10 years, but most foxes only live for 2 to 3 years due to hunting, road accidents and diseases.
Foxes are omnivores. The diet of foxes is largely made up of invertebrates and small mammals, reptiles (such as snakes), amphibians, scorpions, grasses, berries, fruit, fish, birds, eggs, dung beetles, insects and all other kinds of small animals. Many species are generalist predators, but some are more specialist. Most species of fox generally consume around 1 kg of food every day. Foxes cache excess food, burying it for later consumption, usually under leaves, snow, or soil.
Ad blocker interference detected!
Wikia is a free-to-use site that makes money from advertising. We have a modified experience for viewers using ad blockers

Wikia is not accessible if you've made further modifications. Remove the custom ad blocker rule(s) and the page will load as expected.