Feldspars
are a group of rock-forming tectosilicate minerals which make up as much as 60% of the Earth's crust.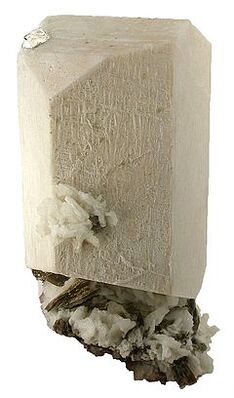 Feldspars crystallize from magma in both intrusive and extrusive igneous rocks, as veins, and are also present in many types of metamorphic rock. Rock formed almost entirely of calcic plagioclase feldspar is known as anorthosite.  Feldspars are also found in many types of sedimentary rock.
The name "feldspar" derives from the German words Feld, "field", and Spath, "a rock that does not contain ore". "Feldspathic" refers to materials that contain feldspar. The alternate spelling, felspar, has largely fallen out of use.
About 20 million tons of feldspar was produced in 2010, mostly by three countries: Italy (4.7 Mt), Turkey (4.5 Mt), and China (2 Mt).
Feldspar is a common raw material used in glassmaking, ceramics, and to some extent as a filler and extender in paint, plastics, and rubber. In glassmaking, alumina from feldspar improves product hardness, durability, and resistance to chemical corrosion. In ceramics, the alkalis in feldspar (calcium oxide, potassium oxide, and sodium oxide) act as a flux, lowering the melting temperature of a mixture. Fluxes melt at an early stage in the firing process, forming a glassy matrix that bonds the other components of the system together. In the US, about 66% of feldspar is consumed in glassmaking, including glass containers and glass fiber. Pottery (including electrical insulators, sanitaryware, tableware, and tile) and other uses, such as fillers, accounted for the remainder.
In earth sciences and archaeology, feldspars are used for K-Ar dating, argon-argon dating, thermoluminescence dating and optical dating.
In October 2012, the Mars Curiosity rover analyzed a rock that turned out to have a high feldspar content
Ad blocker interference detected!
Wikia is a free-to-use site that makes money from advertising. We have a modified experience for viewers using ad blockers

Wikia is not accessible if you've made further modifications. Remove the custom ad blocker rule(s) and the page will load as expected.