A
dress
is a garment consisting of a skirt with an attached bodice (or a matching bodice giving the effect of a one-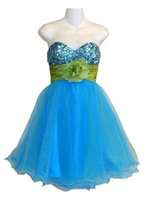 piece garment). In Western culture, dresses are usually considered to be items of
women's and girls' apparel
.
The hemline of dresses can be as high as the upper thigh or as low as the ground, depending on the whims of fashion and the modesty or personal taste of the wearer.
In Europe and America, dresses are worn by females of all ages as an alternative to a separate skirt and blouse or trousers.
Dresses however can be cooler and less confining than many trouser styles, and are
therefore commonly worn in warmer weather.
In most varieties of formal dress codes in Western cultures, a dress of an appropriate style is mandatory for women. They are also very popular for special occasions such as proms or weddings. For such occasions they remain the de facto standard attire for most women.
Dresses can be worn for a number of sports - most notably tennis, netball and figure skating. Their traditional status as formal wear has carried over into ballroom dancing, where they are the garment worn by most female participants.
Ad blocker interference detected!
Wikia is a free-to-use site that makes money from advertising. We have a modified experience for viewers using ad blockers

Wikia is not accessible if you've made further modifications. Remove the custom ad blocker rule(s) and the page will load as expected.