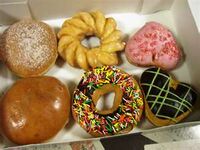 Doughnuts are popular in many countries and prepared in various forms as a
sweet snack
that can be homemade or purchased in bakeries, supermarkets, food stalls, and franchised specialty outlets.
The two most common types are the toroidal
ring doughnut
and the
filled doughnut
, a flattened sphere injected with
fruit
preserves, cream, custard, or other sweet fillings. A small spherical piece of dough may be cooked as a
doughnut hole
. Doughnut varieties are also
divided into cake
and risen type doughnuts. Other shapes include
rings
,
balls
, and flattened spheres, as well as ear shapes, twists and other forms.
In Australia, the doughnut is a popular snack food.
The largest doughnut ever made was an American-style jelly doughnut weighing 1.7 tons.
In 1847, Captain Hanson Crockett Gregory is recognized as creating the doughnut with a hole in the middle.
In the U.S. alone, more than 10 billion donuts are made every year.
National Donut Day is celebrated on the first Friday in June.