Dandelions  is a large genus of flowering plants in the family Asteraceae. They are native to Eurasia and North and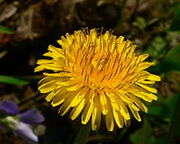 South America, and two species,
T. officinale
and
T. erythrospermum
, are found as weeds worldwide.
False dandelions
Edit
Many similar plants in the Asteraceae family with yellow flowers are sometimes known as "false dandelions". Dandelions are very similar to catsears (Hypochaeris). Both plants carry similar flowers, which form into windborne seeds. However, dandelion flowers are borne singly on unbranched, hairless and leafless, hollow stems, while catsear flowering stems are branched, solid and carry bracts. Both plants have a basal rosette of leaves and a central taproot. However, the leaves of dandelions are smooth or glabrous, whereas those of catsears are coarsely hairy.
Other plants with superficially similar flowers include hawkweeds (Hieracium) and hawksbeards (Crepis). These are readily distinguished by branched flowering stems, which are usually hairy and bear leaves.
Ad blocker interference detected!
Wikia is a free-to-use site that makes money from advertising. We have a modified experience for viewers using ad blockers

Wikia is not accessible if you've made further modifications. Remove the custom ad blocker rule(s) and the page will load as expected.