The
Blossom Scouts
is a
youth organization of mostly girls
that promotes honesty, being well-groomed, loyalty,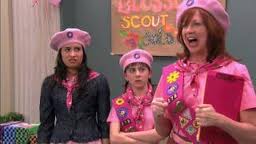 selflessness, helping others, friendship, and
other values
in the Sonny with a Chance episode "Cookie Monsters".
The uniform consists of a pink beret with a purple symbol, pink necktie and sash, a pink short-sleeve shirt and a brown skirt. They also have pink socks and white shoes.
Cookie Sales
Edit
Cookie selling is fierce among the Blossoms. Girls have been known to try and steal cookie sales from other girls by means of pulling customers from their competitor's line. And thus a rule was added to the Blossom Scout Code (164-B) stating, "If a Blossom Scout's partner forcibly pulls a customer out of a cookie line in an attempt to sell said person cookies, the scout leader must expel said Blossom Scout immediately.".
A box of cookies is priced at two dollars.
Ad blocker interference detected!
Wikia is a free-to-use site that makes money from advertising. We have a modified experience for viewers using ad blockers

Wikia is not accessible if you've made further modifications. Remove the custom ad blocker rule(s) and the page will load as expected.