In stratigraphy, bedrock is the common term for consolidated rock underlying the surface of a terrestrial planet. Above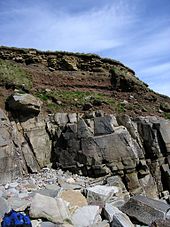 the bedrock is usually an area of broken and weathered unconsolidated rock in the basal subsoil. The top of the bedrock is known as
rockhead
and identifying this, via excavations, drilling or geophysical methods, is an important task in most civil engineering projects. Superficial deposits (also known as drift) can be extremely thick, such that the bedrock lies hundreds of meters below the surface.
Ad blocker interference detected!
Wikia is a free-to-use site that makes money from advertising. We have a modified experience for viewers using ad blockers

Wikia is not accessible if you've made further modifications. Remove the custom ad blocker rule(s) and the page will load as expected.