Bamboo
is a tribe of flowering perennial evergreen plants in the grass family Poaceae, subfamily Bambusoideae,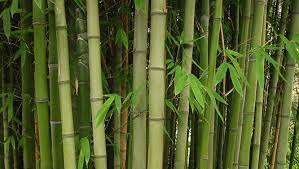 tribe Bambuseae. Giant bamboos are the largest members of the grass family. In bamboos, the internodal regions of the stem are hollow and the vascular bundles in the cross section are scattered throughout the stem instead of in a cylindrical arrangement. The dicotyledonous woody xylem is also absent. The absence of secondary growth wood causes the stems of monocots, even of palms and large bamboos, to be columnar rather than tapering.
Bamboos are some of the fast-growing plants in the world, due to a unique rhizome-dependent system. Bamboos are of notable economic and cultural significance in South Asia, Southeast Asia and East Asia, being used for building materials, as a food source, and as a versatile raw product.
Ad blocker interference detected!
Wikia is a free-to-use site that makes money from advertising. We have a modified experience for viewers using ad blockers

Wikia is not accessible if you've made further modifications. Remove the custom ad blocker rule(s) and the page will load as expected.