Argentina
, is a federal republic in the southern half of South America. Sharing the bulk of the Southern Cone with its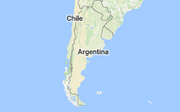 neighbor 
Chile
 to the west, the country is also bordered by 
Bolivia
 and 
Paraguay
 to the north, 
Brazil
 to the northeast, 
Uruguay
 and the South Atlantic Ocean to the east, and the Drake Passage to the south. With a mainland area of 2,780,400 km
2
 (1,073,500 sq mi), Argentina is the eighth-largest country in the world, the second largest in Latin America, and the largest Spanish-speaking one. 
Ad blocker interference detected!
Wikia is a free-to-use site that makes money from advertising. We have a modified experience for viewers using ad blockers

Wikia is not accessible if you've made further modifications. Remove the custom ad blocker rule(s) and the page will load as expected.